Rohana Bodywork Therapists 
---
Jayna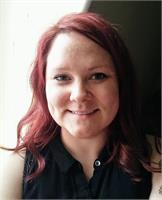 I am a Licensed Massage Therapist from Marquette, Michigan. I have been interested in health and wellness my entire life. My dad is a massage therapist and has been telling me since I was a little kid that I have a knack for bodywork and should go to massage school but I did not listen to him! I worked as a waitress, bartender, nanny, maid and cook until eight years ago, the stars finally aligned and I went to massage school in North Carolina.  I have since continued to study a variety of body work philosophies and modalities and received and maintained my Michigan Massage and Bodywork license. I have years of training and experience in a variety of massage clinic settings working with people who experience all sorts of health challenges. I draw on all of this experience to tailor each session specifically to my clients' needs. I offer massage therapy, cupping therapy, and the AromaTouch Technique by dōTERRA. I use essential oils in massages (unless a client does not care for them) and Rohana Yoga and Wellness has graciously allowed me space to carry some basic essential oils for purchase right at the studio!
---
Susanna

I was born and raised in Lower Michigan and came to the UP in 1986.  I had been visiting Marquette and experiencing the beauty since I was a young girl so I happily continued our family tradition and attended NMU.  After receiving my Bachelor of Science from Northern Michigan University I headed west in search of sun and mountains.  I spent time in Arizona and Colorado then put down roots in the Pacific Northwest for 22 years.
Once settled in Seattle, I began practicing yoga where I was introduced to massage and cranial sacral work.  This body work changed my awareness of health and healing.  I was fascinated that our entire experience since birth leaves an imprint on the central nervous system.  Some experiences express as vitality and others can create dis-ease.  My personal experience with the work was so profound I decided to pursue a career in massage and cranial sacral therapy.  I graduated from Brenneke School of Massage in 2002 and received certification in cranial sacral from Cranial Rhythms in 2003.  
I receive tremendous satisfaction in witnessing and empowering others to heal and live their lives to their fullest potential.  I believe each body has a story to tell, the ability to tell it, and the capacity to heal.  My job is to witness and empower this healing by using the skills I have acquired to help clients achieve a mind, body and spirit interconnection.
I returned to Marquette last August after 25 years out west.  This new part of my journey feels different yet so familiar,  home again.  I'm looking forward to thriving and participating within the Rohana community.